Brother Menfò has been trained in the art of readings and rituals that coincide with his guardian lwa, Capitaine Agwe and LaSirene. He is able to call on this powerful Voodoo lwa couple and work with them on your behalf. With a love as ancient and great as the ocean, Capitaine Agwe and LaSirene can bring their blessings to any love situation! However, he can also work with them on matters of luck, money, career, as they are said to possess the riches of the oceans and can be called upon to share those riches with all of us.

This is a ritual that can be customized to meet your needs. Brother Menfò's Oceanside Rituals involve starting your ritual at his special altar to Agwe and LaSirene. He will finish the ritual at the oceanside, where he will make your offering to Agwe and LaSirene. Brother Menfò will also provide pictures of your personal ritual and send you with an item to call on Agwe and LaSirene.
Cowrie Shell Readings by Brother Menf&ograve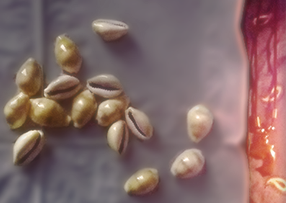 You may also want to consider having a shell reading with Brother Menf&ograve, either as part of your ritual or on its own. Shell readings involve the "throwing of the shells" to communicate with Capitaine Agwe and get his guidance, advice, and answers to your questions. Shell readings are an ancient art that is practiced throughout many parts of the world. Brother Menf&ograve's shell readings are unique in that they call specifically on Capitaine Agwe and his wife, LaSirene, and bring you advice directly from them. Brother Menf&ograve can do these readings as part of your ritual with a nice discounted package (see below) for the ritual and reading. You may also order a shell reading separately by email. Brother Menf&ograve will send you a picture of your own personal shell "throw." These readings offer a unique opportunity to communicate with and get advice directly from powerful Vodou Spirits. (Please note: Shell readings are generally limited to three or four questions to allow concentrated focus on your case.)
As with all of our other reading offerings, cowrie shell readings are not done during spell castings. You may opt to get a reading before, in between, or after spell castings. If you are doing just adjunct work (candles, dolls, etc.) then you can certainly get a reading. Just no readings, please, when you are doing, or having done for you, actual spell work. If you are unsure, please check with Brother Menf&ograve. Please see below for ordering the reading and/or ritual. Please note that, to ease bookkeeping chores and new tax issues, readings and services with Brother Menf&ograve must be paid for separately from other Spellmaker items. After ordering, please use this form to send in your questions.